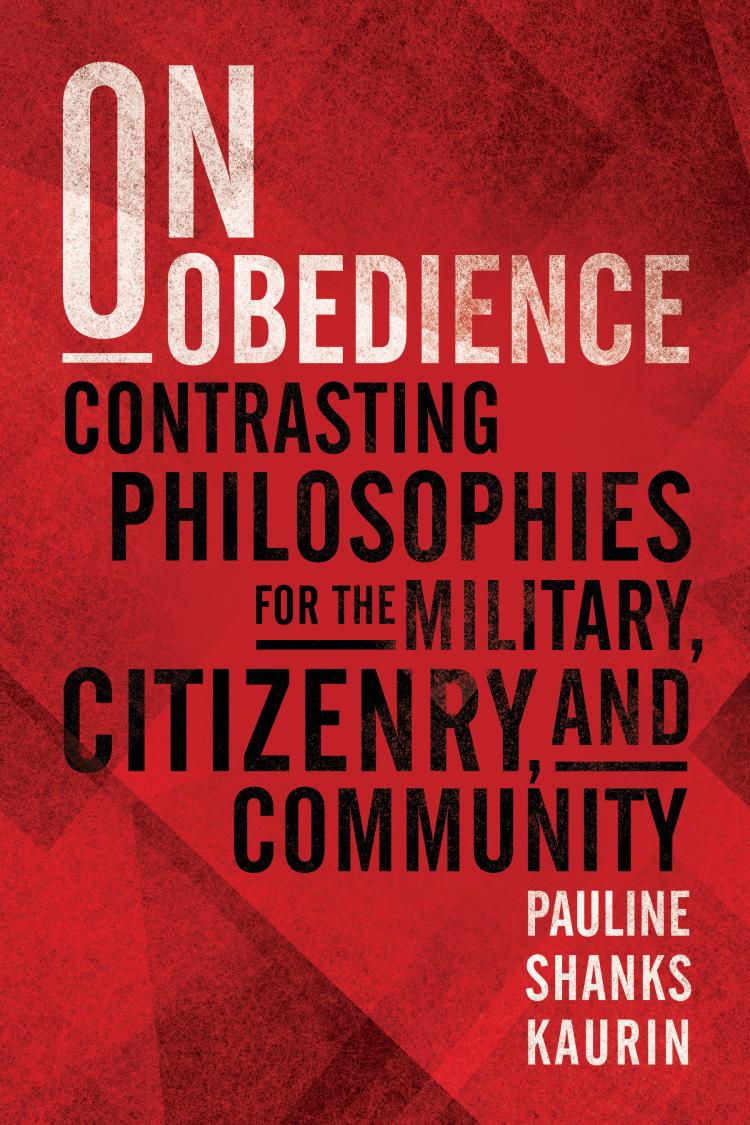 This volume is designed to be an in-depth and nuanced philosophical treatment of the virtue of obedience in the context of the professional military and the broader civilian political community, including the general citizenry. The nature and components of obedience are critical factors leading to further discussions of the moral obligations related to obedience, as well as the related practical issues and implications. Pauline Shanks Kaurin seeks to address the following questions: What is obedience? Is it a virtue, and if it is, why? What are the moral grounds of obedience? Why ought military members and citizens be obedient? Are there times that one ought not to be obedient? Why? How should we think about obedience in contemporary political communities?
In answering these questions, the book draws on arguments and materials from a variety of disciplines including classical studies, philosophy, history, international relations, literature, and military studies, with a particular focus on cases and examples to illustrate the conceptual points. While a major focus of the book is the question of obedience in the contemporary military context, many similar (although not exactly the same) issues and considerations apply to other political communities and in, particular, citizens in a nation-state.
---
Congrats on your new book On Obedience! Tell me a little bit about your book.
It's a book that is intended delve more deeply into the nature and definition of obedience as a moral concept for both the military and civilian political society, in particular, thinking about when disobedience and/or lack of obedience is justified and maybe even good.
What is the backstory behind On Obedience?
I have taught many of these issues to my undergraduate philosophy students for many years (including Army ROTC cadets), but the national election cycle in 2016 brought up many issues in relation to obedience in both these realms. So I started blogging about different aspects of the topic and eventually decided to turn it into a book that I hoped would start a broader conversation on the topic.
How has writing On Obedience made you a better thinker and better person?
It has made me think more about obedience in my parenting (my children are featured in some thought experiments and examples in the book) and a citizen. I also hope it has helped me frame some of these questions for my Navy War College students.
What is obedience look like in your eyes?
Obedience, to be a virtue, has to be intentional, reflective, self-critical, and justified in terms of certain ends of the military and/or the political community. It is also not a matter of binary obedience (good) vs. disobedience (bad); it is complicated which is why we need to think critically about it.
What is the biggest takeaway that you hope a reader will take from your book?
That it is complicated. And that demands for blind obedience or uncritical obedience should be viewed with a great deal of suspicion and trepidation. Everyone ought to be participating in reflections on obedience.
What lessons can a Junior Officer take from your book?
That they are a member of a Profession and that part of their professional moral obligations involves thinking about these issues BEFORE they are in the situation. Where is your line? What will you be obedient to and why? In what ways are you willing to be obedient, disobedient, and various points in between?
What are you reading now?
My NWC colleague Yvonne Chui's book Conspiring with the Enemy: The Ethic of Cooperation in Warfare. Also reading some Chinese philosophy, especially historical texts and thinkers.
What books had the most impact on you and your development?
Michael Walzer's Just and Unjust Wars
Tim O'Brien's The Things They Carried
David Hume, A Treatise on Human Nature
Annette Baier's work on David Hume, especially trust and empathy
Writing a book is tough, were there any surprises as you set out on that journey?
There are always surprises! After I had begun the book, I was hired as Stockdale Chair at NWC and had to move cross-country, start a new job and life while still trying to finish the book. In terms of the content of the book, it seemed that there was always something in the news that related to what I was writing so it was a challenge to stay on task.
Can you provide a specific example or story where reading has helped you learn from other's experiences? Was there a specific challenge where you were able to rely on other's experience to make your decision?
I think that much of my teaching of military students relies heavily on reading the experiences that others have had in combat. As a civilian, I simply do not have access to that experience, except through others. Reading and teaching Critical Race Theory and engaging the experiences of those authors has definitely given me more empathy and understanding in parenting my children (one Latino and one African American) and helped me in engaging my own white privilege and racism.
Can you tell me about a failure that you have had, and how you learned through that failure and became a better individual?
When I graduated from college, I failed to get into any philosophy graduate programs that I applied to. I eventually went to graduate school, but not through the route that I had planned. I learned some serious humility and that I was not entitled to any accomplishments or education. Up to that point, success in academics had come in a pretty linear straightforward fashion. I learned that the path is crooked and more complicated.
What's next for you?
A break from writing. My next topic to read and think about is military honor and whether honor is still a thing that works as a moral concept. As usual, this will mean many conversations with my students, the real experts.
Purchase On Obedience here
---
Pauline Shanks Kaurin holds a PhD in Philosophy from Temple University, specializing in military ethics, just war theory, and applied ethics. She is also Professor of Professional Military Ethics at the US Naval War College. Recent publications include: When Less is not More: Expanding the Combatant/Non-Combatant Distinction; With Fear and Trembling: A Qualified Defense of Non-Lethal Weapons and Achilles Goes Asymmetrical: The Warrior, Military Ethics and Contemporary Warfare (Routledge 2014.) She was Featured Contributor for The Strategy Bridge and published in Clear Defense, The Wavell Room, Newsweek, and Just Security. She lives in Newport, Rhode Island.